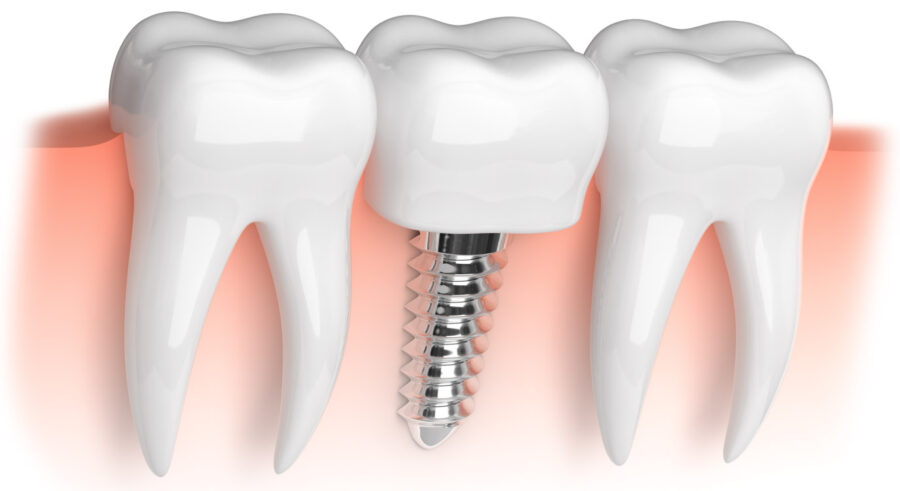 All About Dental Implants
June 22, 2023 1:14 pm
Dental implants are artificial tooth roots made of biocompatible titanium that are surgically placed into the jawbone to support a replacement tooth, bridge, or dentures. The implant fuses with the jawbone over time in a process called osseointegration, providing a sturdy base for the replacement tooth. Due to their stability, dental implants are permanent, natural-looking replacement teeth. If you maintain healthy gums and a strong jawbone, your implants should remain fixed in place for many, many years.
Dental Implants Procedure
Getting dental implants is a surgical procedure, and as such, requires several steps. The first step is a thorough examination to determine if you have a strong enough jawbone and healthy gums.
Once it is determined that you are a suitable candidate for implants, the implant can be surgically placed into your jawbone. A healing period of several months is necessary after the surgery to allow the implant to fuse with your jawbone. After the healing period, a replacement crown or bridge can be attached to the implant.
What Are the Benefits of Dental Implants?
Dental implants are permanent, look and feel like natural teeth, and allow you to eat and speak comfortably. They prevent the surrounding teeth from shifting into the gap from a missing tooth. Additionally, dental implants help to maintain the structure and strength of your jawbone. This is because chewing forces are able to be transferred to the jawbone via the implants, which stimulates bone-building cells.
Schedule Your Teeth Replacement Consultation!
If you are missing one or more of your teeth and want a permanent tooth replacement solution, dental implants may be right for you. At Premier Dental and Implant Studio, our team can determine if you're a good candidate for dental implants. Contact us today to schedule a consultation to find out if dental implants are right for you!