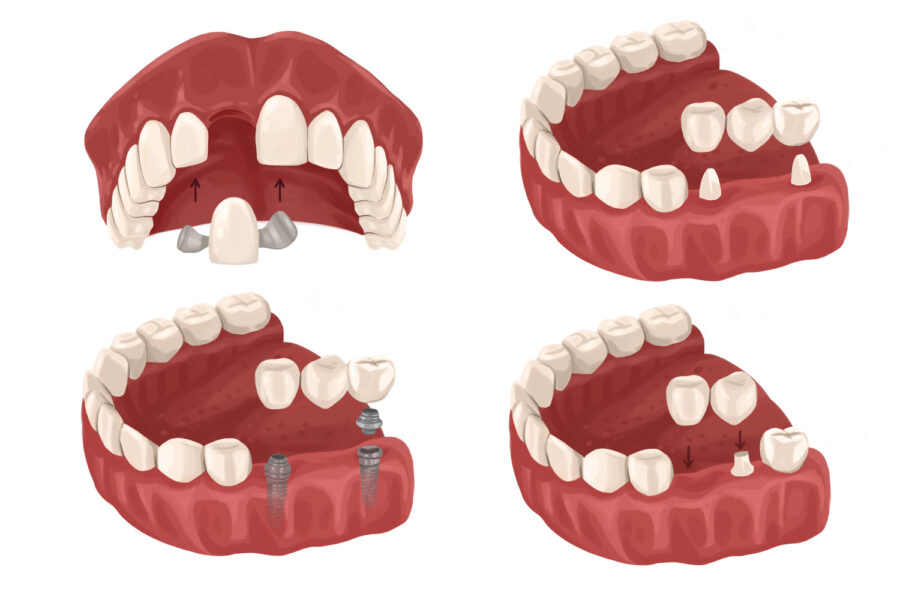 3 Things to Know About Bridges
November 18, 2022 9:59 pm
As dental professionals, we have seen firsthand just how difficult having missing teeth can be for patients. At Premier Dental & Implant Studio, we provide many tooth replacement solutions, including dental bridges, so patients can get their oral health and their confidence back on track.
Are you wondering if dental bridges are a good route for you? Here are the 3 things you should know about dental bridges!



Replacing Missing Teeth

Depending on your needs, a bridge can be used to replace a single missing tooth or multiple missing teeth. They are able to replace up to three missing teeth in a row! Bridges are a high-quality, cost-effective tooth replacement solution for patients looking to regain a full smile.




Types of Dental Bridges

There are several types of dental bridges. Two common types of bridges are traditional and implant-supported:
Traditional bridges are designed with crowns on each end over natural teeth and the replacement tooth or teeth sandwiched in the middle. The purpose of the crowns on both ends of the bridge is to support the bridge and hold it in place. Your natural teeth on either side of the gap will be altered so they can have crowns cemented over them.
Implant-supported bridges are more complex, invasive, and costly dental bridges. Before the bridge is attached, dental implants (small posts that replace missing tooth roots) are surgically placed into the jawbone. After they heal, the bridge is attached onto the implant posts for a secure fit.
Longevity
With proper care, dental bridges can last for decades. The most important thing to remember, especially when opting for a traditional bridge, is that your oral hygiene routine is crucial. Make sure that you are keeping your natural teeth, especially the ones that are supporting your bridge, healthy and strong. There are special flosses and tools, like a water flosser, you can use to properly get under the bridge to remove any bacteria and food debris.
High-Quality Dental Bridges in Estero, FL
At Premier Dental & Implant Studio, our team proudly offers a diverse suite of restorative services. We can help you regain a healthy smile and your self-confidence! We'll work one-on-one with you to map out a treatment plan that best suits your needs. Please contact our office to schedule your consultation!
Bridge photos from Authority Dental under CC 2.0